COSMETIC ACUPUNCTURE
Cosmetic acupuncture is the perfect natural holistic treatment to improve your looks, help you relax, sleep better and improve your health. The treatment focuses on skin concerns such as hyper pigmentation, scars and premature ageing. Facial and body acupuncture improves skin moisture balance, cellular turnover and reduces inflammatory conditions such as eczema, psoriasis, dermatitis. For bestl results this treatment is layered with personalised organic skin care, life style and nutritional advice.
HOW IT WORKS
The micro needle puncture stimulates a healing response by the body encouraging the production of collagen and elastin. Circulation improves which enhances skin tone and texture. Your skin function will re-balance, protect and hydrate your complexion – naturally. Using ultra-fine body or ear needles will enhance organ and body function and assist in facial tissue renewal. As acupuncture drastically increases skin absorption it is important to use the highest nutrient-rich skin care and make up to support healing and rejuvenation.
ACUREGEN
In 2016 Nat van Zee meets Amanda Shayle, Vice Chair of the Acupuncture Society and CEO of Acuregen Cosmetic Facial Acupuncture. Fascinated by natural holistic beauty modalities Nat receives several Acuregen Signature Treatments, including ear and body puncture layered with LED light therapy and growth factor facial mask, see here. Impressed with the wellbeing and beauty benefits Nat trained at the Acuregen Academy and is now a qualified Acuregen Cosmetic Facial Acupuncturist.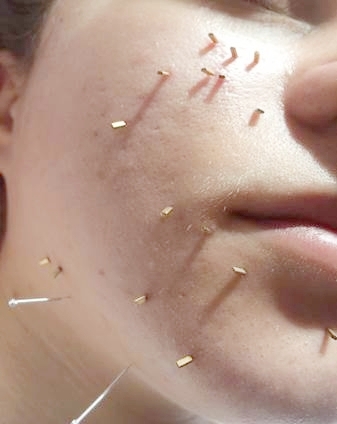 Above you can see Acuregen's 'Thrive' needles, short intradermal needles 3 - 6 mm, which are inserted into the face, combined with longer needles in the neck, ears and body.
Holistic Focus
An Acuregen facial acupuncture treatment is much more than a beauty therapy. General health and internal organs are stimulated to maximise the healing response to the treatment. This is supported with ear and body acupuncture, organic skincare, combined with LED Light therapy* plus diet and lifestyle recommendations. Together this results in longer lasting improved looks, wellbeing and health.
During a treatment Acuregen's micro Thrive needles are inserted into the skin of the face, combined with longer needles in the neck, ears and body. The Thrive needles enable layering of treatment with organic skincare masks and light therapy. This rejuvenating natural treatment improves overall elasticity and complexion, ofter referred to as a 'natural face lift'.
Benefits
Reducing the appearance of fine lines and wrinkles

Lifts and tones sagging muscles and skin

Reducing puffiness and bloating around the face eyes, throat and body

Improving complexion giving a fresher glow due to increased blood flow to the tissues

Improving skin discolouration, including sun-damage pigmentation

Improving acne scarring and the pitting effect

Tightening pores while also hydrating skin

Reduced side effects and no down-time as opposed to fillers, injections and chemical peel

Improvement or resolution of skin problems

Improved sleep, hormone balancing, digestive issues, relaxation and many more health benefits
Treatment menu
The consultation starts with a tongue diagnosis and full medical consultation to understand your concerns and desired outcome. Followed by a relaxing and cleansing facial massage which will help you to unwind.
Gentle acupuncture techniques and ultra fine needles will relax facial tissue, define, sculpture and encourage renewed circulation.
The treatment includes a personalised skincare mask to encourage collagen growth, reduce skin redness, pigmentation and deeply hydrating benefits to reduce fluid retention and tone facial contour.
Our focus extends beyond beauty and is uniquely designed for your wellbeing. With your permission we may integrate elements of body pressure or massage for you to deeply unwind.
To complement the holistic treatmeant we will advise you on the best organic, natural and vegan beauty products to benefit skin healing and rejuvenation.
Medical Microneedling
If medical facial micro-needling is a part of the treatment plan, it will usually be done on your 4th session and then every 4 weeks – supported with sessions of cosmetic acupuncture in between to maximise results. We believe in slow, natural nurture for long-lasting beauty.
There is a reason why we don't do micro needling with a 'skin roller' on your first session. We strongly believe that with this time frame, we will have a better understanding of your skin and your particular concerns. Assessing your health and response to treatments ensures that gradual bespoke 'step ups' with the amount of needles or zones of treatment chosen, do not create stress to you and your body – remember, stress is not a friend of the healing process! This way, when you reach your fourth session both you and your skin will be much more prepared for a 'skin roller' session
You will be familiar with the needling experience and you will be supported with the best organic skincare and nutritional advice. Acuregen's gentle needling approach will relax and support the immune system on a journey of cellular replenishment from the inside out.
Treatments last up to 90 minutes. Prices at request.
All treatments are insured by Balens Group Insurance.
"I have experienced acupuncture many times before and I am an advocate of it, never had it specifically for my face and skin. Nat made me feel at absolute ease, I felt deeply relaxed and it did not hurt at all. Immediately after the treatment my skin looked plump and radiant. Nearly a week on my skin looks fuller and feels so soft. I will most certainly be having more treatments. I can not recommend facial acupuncture with Nat enough, it is great for both mind and body."
Jasmin Harsono
Wellbeing Mentor
'First of all Nat is a really lovely calming individual to be around, I feel this is essential for a good practitioner in any therapy. She'll make you feel right at home and is gentle when performing the treatment. I've had two treatments so far and they've made a big difference. A few days after my first treatment I can only describe the sensation as happy giddiness, almost ecstatic in my mood. It felt so good!'
Sarah
'I felt pretty chilled after the treatment and my boyfriend and I were convinced I looked rosy and fresh and like 25. '
Ilka (34 years old)